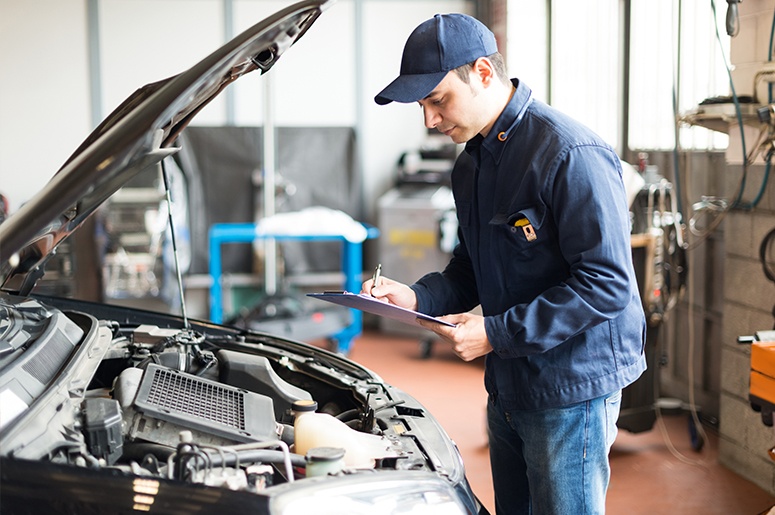 CARAVAN AND MOTORHOME WORKSHOP NEAR ME
STEVENAGE, BEDFORD, LUTON, MILTON KEYNES
Are you looking for caravan and motorhome workshop in Hertfordshire? Hitchin Leisure Servicing offer a complete service at our Stevenage workshop for customers throughout Stevenage, Bedford, Luton, Milton Keynes and the surrounding areas.
Our caravan and motorhome workshop in Hertfordshire offers a complete range of MOT, repairs, maintenance, servicing and other workshop services. It is recommended to make your caravan and motorhome service an annual requirement to ensure everything is working as it should, and also to prolong the lifespan.
CARAVAN AND MOTORHOME WORKSHOP SERVICES
We aim to give you the best service we can and also to get your caravan or motorhome back on the road as soon as possible. We receive high-quality reviews from our customers, complementing our convenient location, and our standard of service. We have over 40 years of experience in the industry and are the number one caravan and motorhome servicing company around our local area.
For caravan and motorhome services and repairs, please call Hitchin Leisure Servicing on 01462 421 443.
Our team have over 40 years of experience, and we have a purpose-built four-bay workshop. Our team are highly qualified and professional.
Please see below a list of our services: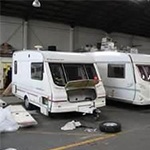 Single Axle Caravan Service
With a single axle caravan, you have one axle and therefore two wheels. We carry out full services, checks and mots. Our tests include checking the axle is safe and secure enough for towing.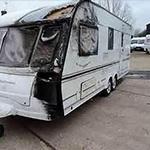 Twin Axle Caravan Service
With a twin/double axle caravan, you have four wheels. As with the single axle caravan, we will provide a full service, Mot and check your caravan for any faults or damage.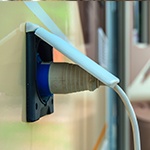 Motorhome Habitation Check
The main work carried out in a motorhome habitation service is electrical and gas safety checks, damp checks, appliance checks, chassis mountings, and inspection of your water systems.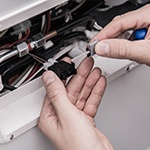 Mechanical Services
The mechanical motorhome servicing is carried out on the chassis and engine depending on the mileage you have done, this should be at least every two years or at 30k mileage, intervals if sooner.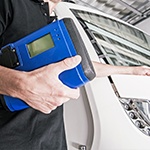 Oil & Filter Change
Our team will do a complete oil and filter change on your motorhome. Keeping your oil and filter in excellent condition will ensure the smooth running of your vehicle.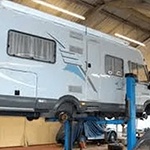 MOT for motorhomes
Your motorhome will require an MOT test every year if over it is over three years old. It is essential to have engineers to carry out your Mot to ensure your vehicle is roadworthy.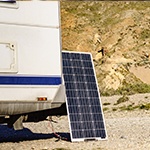 Solar Panels Fitted
Solar panels are brilliant for caravans and motorhomes, not only because it's a renewable source of energy, it can power your vehicles when they are left alone for any length of time.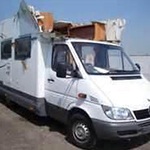 Accidental Damage
We are fully qualified experts in the repair of damages caused to your motorhome or caravan if it has been involved in an accident, whether it's a small scratch or replacing entire panels.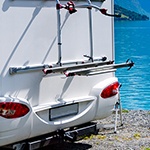 Reversing Cameras Fitted
Reversing camera systems are wired, or wireless and they usually feature a monitor fixed to the dashboard and an adjoining camera attached to the back of the motorhome.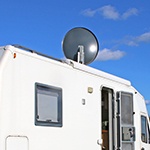 Satellite Systems Fitted
We will measure your caravan or motorhome to ensure you get the best-sized dish for your vehicle so that you can stay connected on your adventures.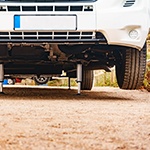 Motor Movers Fitted
A motor mover is a device which is mounted to a caravan chassis and connects to rollers attached to the wheels of your caravan to help you manoeuvre.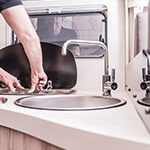 Damp/Water Ingress Repairs
We can repair caravans and motorhomes that have damp and water ingress damage. Our expertly trained team will carry out checks for dampness on your vehicle.

We provide Caravan and Motorhome servicing at our workshop for customers throughout Hertfordshire, Bedfordshire, Buckinghamshire and Cambridgeshire, including the following local areas:
Hitchin
Milton Keynes
Bedford
Stevenage
Cambridge
Luton
Bury St Edmonds
Harlow
Colchester
Oxford
Northampton
Dunstable
OPENING HOURS
Mon-Fri: 7:00-16:00
Sat: 08:30-11:00
Sun: Closed