What is Habitation Service
Posted by:
Admin
Tags:
Posted date:
06-02-2021
Many motorhome owners often ask; what is habitation service? Most new motorhomes will need a habitation check every year for the warranty to be valid. Find out if your Motorhome Needs One here.
what are habitation services, also known as a motorhome habitation check?
Habitation services will highlight and fix any critical safety and performance-related issues your motorhome or caravan may have. A professional habitation service from a professional workshop will also provide reassurance and peace of mind. Fundamentally, habitation checks and servicing ensure that your vehicle is safe to use.
A habitation service can be conducted at any point in the year. Many motorhome owners choose the winter months, which can be a quieter period for motorhome, caravan users or service centres. It would be best to treat your motorhome in the same way you would treat your home. You wouldn't want your loved ones or family to live in an unsafe home, with the potential of damp or gas leaks, so why would you do the same with your motorhome?

A habitation check will ensure your motorhome or caravan's safety and give you peace of mind in the knowledge your vehicle is safe and secure.
A motorhome habitation inspection service refers to the habitation areas of your vehicle. It comprises many inspection types, including inspecting your caravan or motorhome's gas safety and checking window locks for your security. It will also include a damp check, so there is no water ingress.
You should allow for approximately three hours for a motorhome habitation service. New motorhomes require a habitation service to keep their warranties valid and up to date.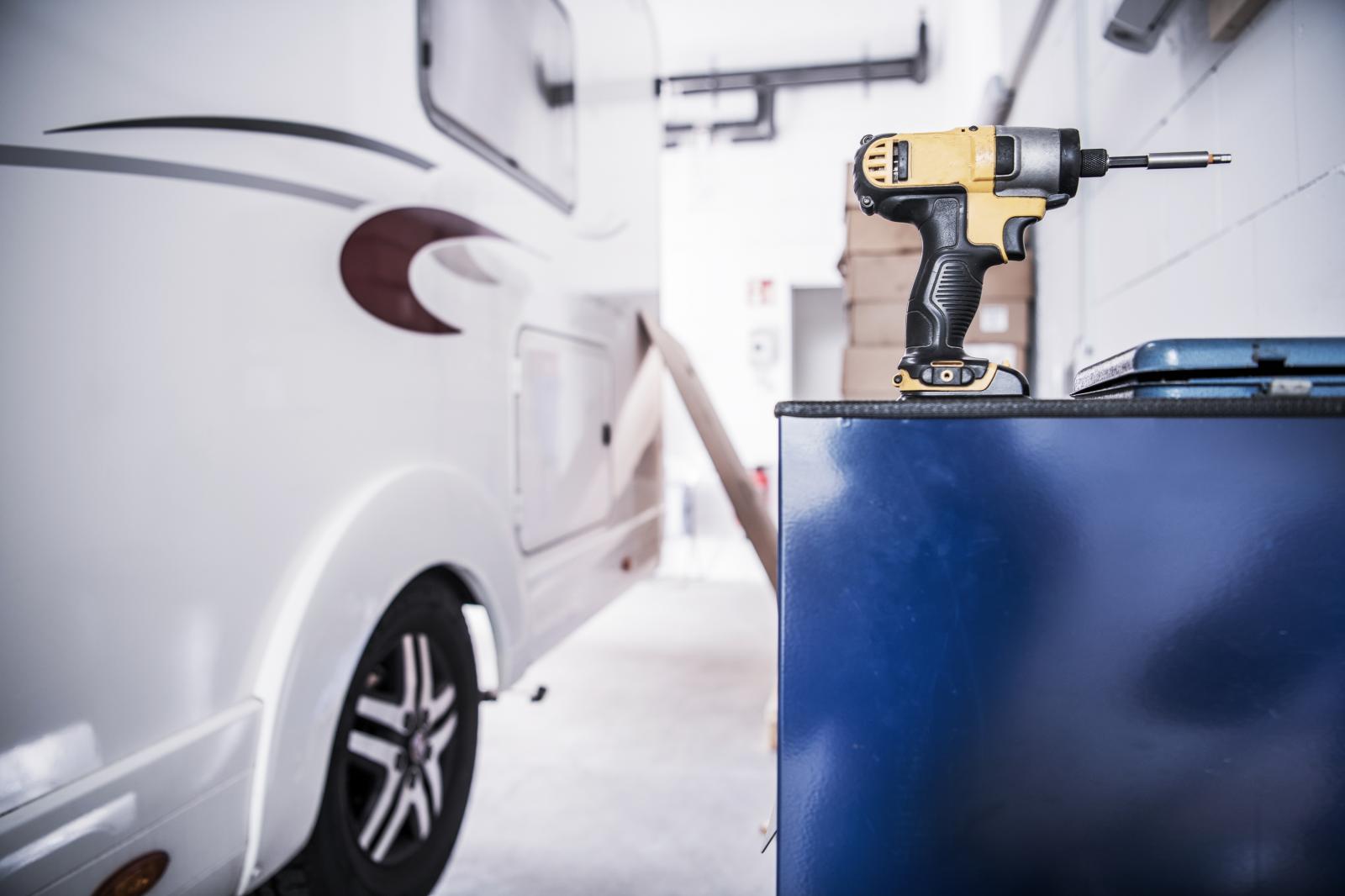 Having a motorhome habitation service is essential for retaining its value. Any future buyers of your motorhome will want to see a full-service history which should include a habitation service. If there are any breaks in your motorhomes service history, it might put potential buyers off from purchasing it.
The first thing you need to decide is whether you want to use a fixed workshop or a mobile service engineer.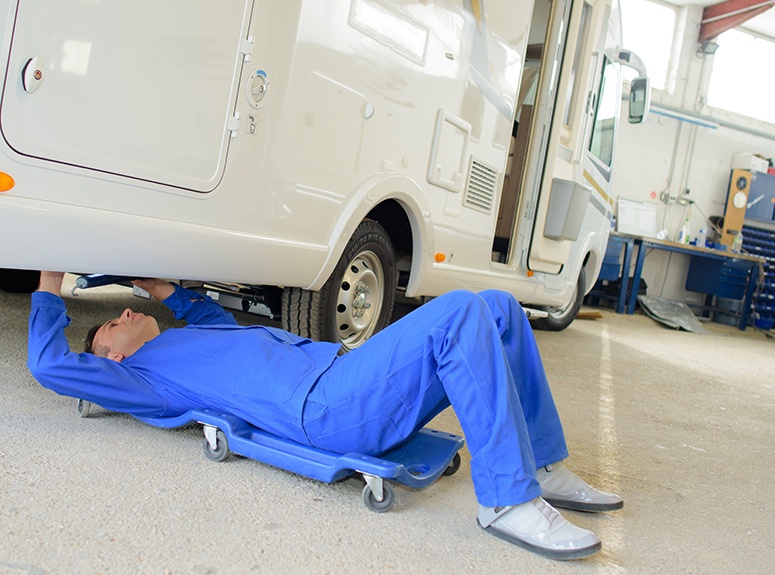 Workshop
If the weather conditions are bad, a workshop can still be carry out the motorhome habitation check.
A service centre with a workshop will have space to keep motorhome parts in stock, so in case any are needed, there is minimal wait and delay.
Some motorhome dealers will send you a yearly service reminder so you have one less thing to remember.
You will be required to take your motorhome or caravan to the service centre, in many cases, these are not always local to us, and it can mean a long drive.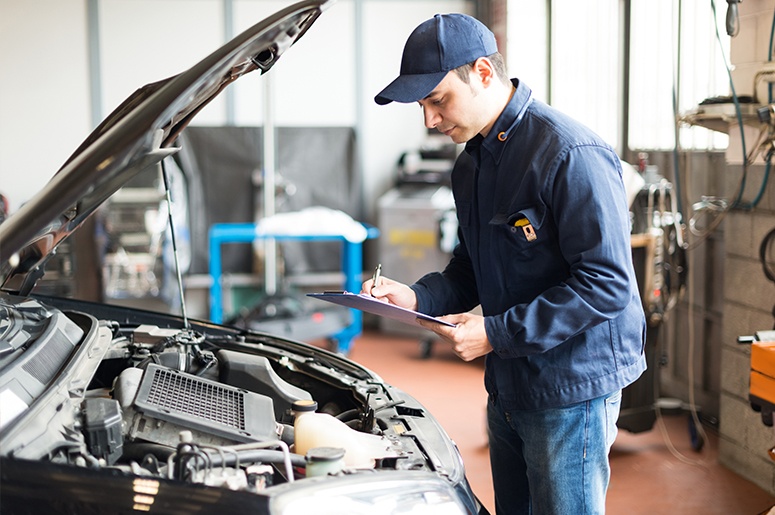 MoTORHOME Service Engineer
A qualified motorhome service engineer can complete the habitation check to a professional standard. It is best to check with your local motorhome garage to book a servicing by a motorhome technician.
The mobile motorhome engineer will conduct the habitation checks and carry out any work required.
Be aware that if you want your motorhome to be ready for a summer trip, then you need to book in advance as spring and summer are the busiest period for motorhome service engineers..

What Does a Habitation Check Include?
A basic service can cover about 50 individual jobs, which are usually divided into the following areas.


Electrical systems
All your motorhomes external and internal lights are checked for any operation faults.
Plug sockets are thoroughly tested, using a loop check. A loop check will send a signal through the socket to verify they are correctly wired.
Refrigerator operation, the TV socket, the battery, the consumer unit and any other parts of your motorhome electrical systems requiring electricity.
An RCD (residual current device) check involves ensuring the Residual Current Device trips within the correct amount of time.
Your motorhomes miniature circuit breakers are also checked to ensure that they are correct for your vehicles appliances.

Gas systems
The engineer will use a manometer to check for leaks in the supply of your gas systems.
Any gas appliances – such as the heating system, water heater, refrigerator and oven are turned on to ensure they are correctly working.
All vents are checked to see they are free from any obstructions and are clear.
Then the engineer will turn off your appliances at the gas isolator taps. The flame-failure device should cut in; this means they have passed the test.
A Carbon Monoxide room test is conducted, all gas appliances are turned on, a flue gas analyser will run for a minimum of fifteen minutes, while all the doors and windows are shut.

Water systems
All taps are checked individually for leaks, and the motorhome's waste-water outlet is checked for any blockages.
The motorhomes toilet will be inspected to ensure the battery-operated flush is working correctly and the valve seal is lubricated well.
If your motorhome has an Alde wet heating system installed, the water and ethylene glycol antifreeze must be a 50/50 mix – the engineer will check this using a portable refractometer.
The antifreeze mix in the header tank should be 10mm above the minimum but not at maximum.
It is important that every two years, the antifreeze should be changed.

Bodywork
All doors, windows and blinds are checked to ensure they operate smoothly.
The engineer will make a general observation of the entire motorhome's bodywork; this includes a visual inspection of the motorhome roof.
Damp checks are conducted around the motorhomes inside. If the reading is between 0-15%, there are no concerns, however, if the reason between 15-20% further investigation is required within three months.
If the engineer finds the reading is above 20% damp, your motorhome will require immediate attention; the task will highlight water ingress areas.
The motorhome service technician should give you a damp report on completion of the service.


ventilation
The motorhome's roof lights are opened and closed to ensure that they operate correctly.
Also, all fixed vents are checked for any possible obstructions.


Fire and safety
The smoke alarm and Carbon Monoxide detector are checked and tested to see they are working correctly and not past their replacement date.
If you have a fire extinguisher in your motorhome, the engineer will check the expiry date.
Also, if you have a fire blanket, the engineer will check the housing unit is secure.


How Often do you Need a Habitation Check?
Most new motorhomes will need a habitation check every year for the warranty to be valid. Many manufacturers insist on an annual habitation check as part of their warranty terms and conditions. A habitation check is an excellent way to protect the long-term investment of your motorhome or caravan.
Reasons why you Need a Habitation Check
Habitation Checks are much like Service Checks on a vehicle; it helps to identify any issues before they develop into more serious risks that can put the occupants in danger, not to mention leading to costly repairs.
New motorhomes will often require annual habitation checks to be carried out in order to maintain the manufacturer's warranty.
By inspecting your vehicle, habitation checks are a useful and insightful way to see your motorhome's overall condition. This document is beneficial to have if you're thinking of selling your motorhome and can ensure that you receive the best possible price.
A habitation check will be carried out to identify any potential problems in your motorhome. With a detailed list of your vehicle's condition, you can get any issues to put right before they cause expensive damage, in the long term.
Nobody wants to think about worse case scenarios. The majority of us tend to stick our heads in the sand and hope it will not happen to us. However, none of us knows what is around the corner. Motorhome habitation checks are an annual way to avoid any disasters. They protect your family, loved ones and yourself from a potentially harmful situation.
---
As a motorhome owner, you may wonder: what is habitation service? If you require a motorhome servicing in Hertfordshire contact us today. Our motorhome workshop is based in Hitchen and provides servicing and MOT for customers throughout Hitchin, Stevenage, Bedford, Luton and Milton Keynes.